Manifest Maker setup always installs "Side-by-Side Manifest Maker", "Display Resource Manifests" and "Manifest Maker Help" icons.
Optionally it also adds Visual Studio Integration icons for adding and removing Manifest Maker folder to the Visual Studio 2005/2008 Options / Projects and Solution / VC++ Directories list. These icons do not apply to Visual Studio 2010 or later because of changed integration mechanism.
Access to Manifest Maker icons depends on the verion of Windows you are using.
Windows 8 Start Page
In Windows 8/8.1 you need to explicitly add Manifest Maker icons to your Start page:
Open the Start page and type manifest, you will see matches which include the following items:

Right-click the icon you want in your Start page and select "Pin to Start".
If you want to add this icon to your taskbar, select "Pin to Taskbar":
Windows 7 Start Menu
Manifest Maker setup creates the following start menu items: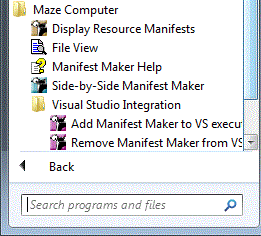 Windows XP Start Menu Items
Manifest Maker setup creates the following start menu items: